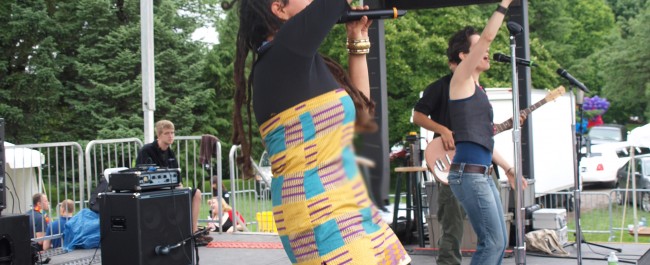 An Excellent Summer of Festivals & Fun!
We had an wild summer this 2010, filled with amazing shows and festivals!
We traveled up and down the east coast this summer taking the stage alongside some incredible artists and in front of many energy-filled audiences. We opened our summer performances with our second feature at Capital Pr
ide in our hometown of Albany, NY. There was a magical mist that surrounded the hundreds of audiences members who danced to our music. Our next stop was across the Hudson river in Troy, NY at the River Street Festival where we performed
alongside Grammy Award winner Paula Cole. Days later we traveled to Detroit, MI to join thousands of others in attending the US Social Forum, where sang and danced for social justice. In
July we attended the Grassroots Festival in Ithaca, NY where Taina Asili joined the stage with Dine rock band Blackfire in an awesome rendition of their song "Common Ground". We also took two awesome trips out to Maine to perform at
several events including the Norway Arts Festival and the Be Here Now Festival. What an incredible trip it was to perform on such gorgeous land for such warm people (and we are coming back this Oct. for the Harvest Festival)! We also hit another stop in New England at Boston GreenFest with an incredible line-up of international
artist including  Mamadou, guitarist from Mali. Towards the end of the summer we headed right back to where we began with a 3 hour performance at Alb
any's First Friday. But our final show of the summer made it complete with our long awaited return to NYC with a powerful packed house show at Camaradas del Barrio in Harlem, featuring a guest performance by Naima Penniman on our song "She Lives". It was definitely a summer not to forget, and we look forward to another wild and beautiful summer of festivals and awesome shows in 2011!