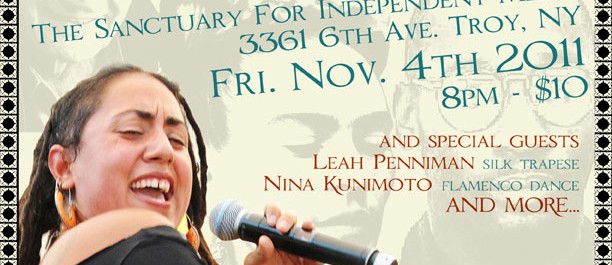 Fiesta In Honor of the Ancestors
Taina Asili y la Banda Rebelde, come together on the Sanctuary stage once again with a festive night in honor of our Ancestors. In light of the recent execution of Troy Davis, we must keep even closer to our heart those we have lost in the struggle for Peace and Justice. Let us celebrate their lives, their Spirit, and let the Love be the fuel that moves us forward!
This festive night is inspired by the Dia de Los Muertos (Day of the Dead) holiday and will feature Taina Asili y la Banda Rebelde. Powerful vocals by Puerto Rican vocalist Taina Asili laid over an energetic fusion of Afro-Caribbean, reggae, rock, and hip hop sounds, la Banda Rebelde's music fill listeners with the fervor of freedom and inspire audiences to dance to the movement of rebellion. The night will also include a virtual altar, as well as special guests including: silk trapeze performance by Leah Penniman; flamenco dance by Brattleboro, VT based dancer Nina Kunimoto; puppetry/dance by Rijah Newell from Norway, ME; and tabla performance by Indian classical musician Devesh Chandra.