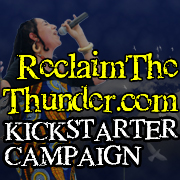 Help Us Bring FREE Shows to Organizations and Schools!
This fall 2012 we will embark on the Reclaim the Thunder Tour, a US and European tour. We have recently launched a Kickstarter campaign to raise $15,000, in hopes of offering FREE performances to 15 select social justice organizations, community centers and schools, in order to assist with their consciousness and fundraising raising efforts. This 30 day Kickstarter campaign will go from Feb. 10th until March 11th. Funds collected will cover touring expenses, such as transportation, meals and accommodations, to bring our music to these often under-funded organizations and schools.
With the way that Kickstarter works, this is an all-or-nothing campaign, meaning if we fall short of our goal we won't receive any of the contributions raised. To show our appreciation for your support, we are offering some special incentives, including song downloads, CD's, t-shirts, posters and more. We invite you to join us on this powerful journey with your Kickstarter support!