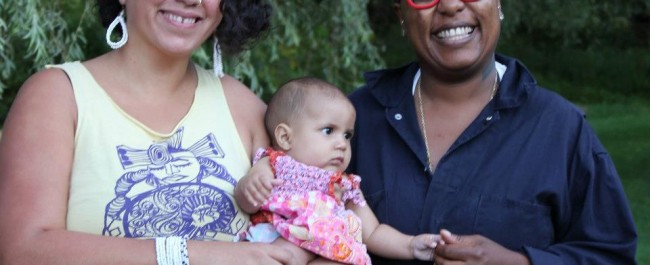 La Banda Rebelde drummer, Kiki Vassilakis, and I just came back from the very first ever Women's Music Summit, held this year at The Full Moon Resort in Big Indian, NY… AND OH WHAT A BLAST WE HAD! 40 women musicians of various ages, locations, instruments and genres came to
gether in the heart of the Catskill Forest Preserve to commune in music. The line up of presenters offered workshops full of wisdom, and included profound artists such as Meshell Ndegeocello, Melissa Auf der Maur, Marnie Stern and Malina Moye. Music industry panelists Tobi Parks (Sony Music Ent.), Kate Porkony (Indaba Music), Carise Yatter (Hired Gun Media), Jessica Sternick (Red Ent.), and Laura Taylor (Guitar Center), offered valuable insight into developing one's music career. Event producer Laura B. Whitmore created an amazing space for attendees and presenters to connect and enjoy one another.
Melissa Auf du Maur offered a workshop on bass techniques and on live performance as art. I thoroughly enjoyed Melissa's stories about her experiences in Hole and Smashing Pumpkins, and the ways she has grown as an artist and person. I particularly connected with her as a mother of a new baby, AND our babies were able to meet each other too! She was very honest and open, which is reflected in her new music and artistic work.
Meshell Ndegeocello also gave a bass techniques workshop in addition to a workshop on communicating with other musicians. Sharing wisdom from her own experience, she spoke of the importance in being disciplined in her art, giving respect and kindness to those she works with, and being true to herself. One of the highlights of the event was the opportunity to have Meshell assist us with writing a new song by accompanying us on the bass, and having her perform that song with us later that evening.
Marnie Stern offered a guitar tapping techniques workshop, as well as an experimental songwriting workshop. She talked about allowing yourself to move with your musical instincts. She also spoke about the importance in staying grounded in the love of yourself and your art and letting that lead the way.
Malina Moye, who offered workshops in songwriting collaboration and live performance, spent a great deal of time with the attendees, getting to know us one on one. She came with beautiful spirit and grace, and spoke with us about the power in our determination as artists, dreaming big and working hard.
Each night we had an open mic where we had the to opportunity to listen to the unique "voices" of all those present. Afterwards, we would jam until late into the night. Though we were all different in our art, I believe we felt a deep connection, an ability to harmonize, via our experiences as women musicians. We spoke about the ways we have been discriminated against in the musical world – the layers of oppression we have experienced,  not only because of our gender, but also because of our race/ethnicity, age, ability, sexuality, motherhood, etc. And we shared stories of how we have found our power to fight against it.
Kiki and I truly enjoyed every moment and learned a lot about ourselves as musicians and as band mates. We definitely feel like we have a new family of women musicians compañeras from around the country (and in Germany!) .
Click here to view our photo album on Facebook.