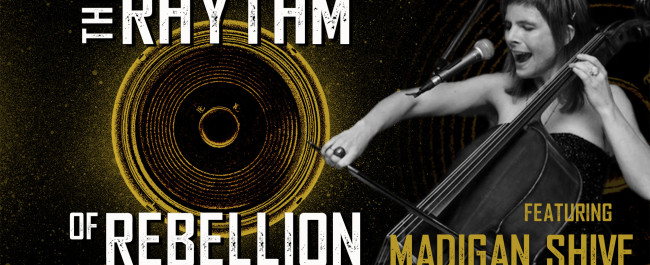 Bonfire Madigan Shive – Music In Dialogue With Right Now
In this episode I talk with visionary cellist, vocalist, and community activist Bonfire Madigan Shive. Madigan began her career in the Pacific Northwest Riot Grrrl scene, releasing music with independent record labels K and Kill Rock Stars. She's gone on to establish herself as a trailblazing performer, blending folk, punk, classical and avant-baroque styles. She is also a founding collective member of The Icarus Project, a progressive, peer led mental health community and support network.
This week we talk with Madigan about transformations she has made during her twenty years as a performing artist. We also discuss her upcoming album, and the soon to be released film Whisper Rapture: A Bonfire Madigan Suite, documenting her journey from traumatized youth to virtuoso musician and pioneering mental health activist.
More info about Bonfire Madigan Shive at http://bonfiremadigan.com/
More info about Whisper Rapture: A Bonfire Madigan Suite at http://whisperrapture.com/
Be sure to sign up for our email updates and subscribe on iTunes, SoundCloud, GooglePlayMusic or Stitcher to make sure you never miss an episode. And if you like the episode please leave a review! Thanks!