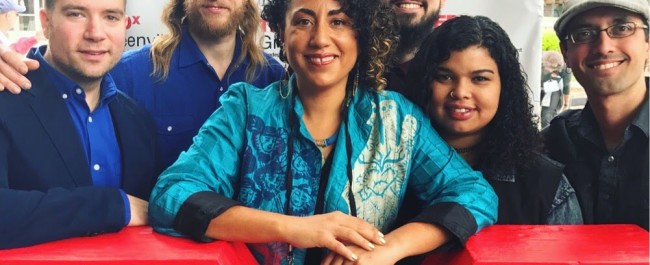 I am so excited to finally release the video from our performance at TEDx Greenville 2017: IMPRINT! It features a performance of our song "Sofrito" off of our album Fruit of Hope, talking about the strength and the potency of my Puerto Rican ancestry and culture. We also had the opportunity to perform our anti-mass incarceration anthem, "Freedom." I would love your help in sharing these Facebook and YouTube videos with the world!
It was a mystical journey that brought us to that particular stage. Three years ago, our band was on a tour in the south, on our way to a performance in New Orleans. As we were booking the final dates of the tour, we decided to make a stop at a venue in South Carolina, in area where we knew virtually no one, hoping to build our audience. As it turns out, there was another big event in town, and only a handful of people attended our performance. But they were the most enthusiastic and loving audience members, ready to get down, and we decided to give them an energetic show. We had a blast that night, and they became big fans, following our work as we've grown. This year, one of them decided to nominate us to TEDx Greenville 2017. And as the Universe would have it, out of 190 nominees, we were chosen to present our work. Moral of the story: you never know where a single moment will lead you!
In April, we head back to the south to join seventeen of the most innovative and influential speakers of the region on the stage of the Peace Center in Greenville, South Carolina. Each one took us on a journey of thinking, inviting us to question, challenge and uplift ourselves and our world. Some of our fellow participants included: Crystal Irby, an artist who creates work across multiple genres that centers on the Black experience; thought provoking dancer Vaughn Newman; Tracey Pickett, speaking on emojis as the language of the future; and innovative artist Janine Monrow. Check out all the speakers of TEDx Greenville 2017: IMPRINT.