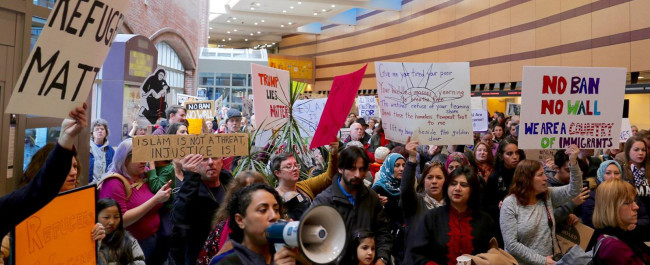 New to social justice? Here's 5 tips to get started
The current of this country and of our world is changing, in negative ways for sure, but also in positive ways. I have been a touring artist for 23 years, as I travel around the country these days, I hear more and more people asking me what they can do to get involved in social justice work, whether it be racial justice, gender justice, climate justice or other movements for change. This impulse to take action is exciting, and is an opportunity to make powerful shifts in this world, and for our future. This gives me hope.
Where to start can be overwhelming. I have been participating in social justice organizing for over two decades now, and I still feel overwhelmed about what to do and where to start. Today, I spoke with Dr. Aviva Romm on her podcast Natural MD Radio (listen to the episode here) about some of my ideas on how people can begin to get involved in social justice work. These are my five go to places when I am feeling stuck on where to begin. I humbly present them to you, and hope you find them useful:
Understand how we got here


In order to understand the injustice and resistance tactics of today, we have to first look at what got us here. I am constantly in process of studying our human history, particularly the history of the U.S., as that is where I live. Everything from European colonization, to the enslavement of African people, is connected to the systems of oppression that we see today. Conversely, we also have a powerful history of resistance movements that we must also know about in order to understand where we are today, and to be knowledgeable of the tools that we have in our arsenal of resistance. This can definitely be an overwhelming task, so it might be best to start with looking at a particular movement's history. For example, I am very much interested and involved in the movement to end mass incarceration in the U.S., so some of my favorite primers for that would be:

A People's History of U.S.

by Howard Zinn,

The New Jim Crow

by Michelle Alexander,

Assata: An Autobiography

by Assata Shakur,

Live From Death Row

by Mumia Abu-Jamal, a

s well as the documentary

13th

by

Ava DuVernay

.

Here

is a great list of books about social justice movements. If you are a college student, you could also look into classes on these topics.

Shift your thinking and behavior


Though many of us want to make this world a better place, as we start to open ourselves to looking at these problems more closely, we come to see that we may also be contributors to the problem. For example, I have identified as a queer woman of color feminist for a long time, and have done a lot of social justice organizing under around this. However, over the past decade it has become clearer to me the ways that I need to examine my privilege as a

cis-woman

, and the ways that my actions, organizing and art have excluded or caused harm to

trans people

. In order to begin shifting this thinking and behavior, and to become a better ally to trans people, I have read

books

, watched

documentaries, attended workshops and classes, and listened/talked about it with community members and friends. And this is just the beginning. We are all a work in progress, and it is important to keep leaning into those places of discomfort in order to grow for the betterment of everyone. Here's a link

with more info on how to examine your privilege and be a better ally.



Find community


There have been many times in my life where I have felt alone in my experiences and also my thinking and desire for change. It has been important for me to find like minded community to work (and play) with. Sometimes I have found this community by participating in local organizations, or attending conferences and public events. Yet, at other times in my life, it has been near impossible for me to physically attend spaces, so finding community online, such as joining a Facebook group, has also been very important. A quick search online for a local organization, and an email or phone to that organization with a request for info about meetings, events, and online community might be a good place to start. If you are a white person and want to do anti-racist organizing, for example, you could search to see if there is a

SURJ

organization near you (or something similar), and contact them to see what they've got going on.

Take action


Once you find like-minded community, it can become a whole lot easier to think collectively about what to do next. There may be a campaign on that issue you can join, a petition you can share, information you spread in person or online, protests you can join, a fund you can donate to, or an in-person or online volunteer opportunity you can do. There are so many possibilities of actions you can take, and a lot depends on what is being called for in that particular movement and moment. The previous three steps should help you feel more in the know on how to get involved.

Rest, heal, re-energize, repeat


By now, you're probably thinking, wow this is a lot of work. Can I really do all of this? The answer is yes and no. Yes, you/we can do this, but we can't do it all at once. Making changes within ourselves and in our world is an ongoing process. The urgency is real, and we may feel pushed to do more than we have the capacity to do, and in my humble experience, it is important to push back on that. I have seen too many people hurt and organizations fade away from burnout. My best friend and activist farmer extraordinaire, Leah Penniman, and I made a blog post about maintaining wellness in the struggle for justice. It was inspired by a talk we attended by Dr. Aviva Romm, and informed by our own experience as organizers. We must make time take care of our bodies, minds, and spirits, so that we can keep on working for justice. Remember this is not a sprint, this is a marathon… and we WILL win!
Now let's get to work! Ain't no power like the power of the people, and the power of the people don't stop!
Featured image by Two Buttons Deep