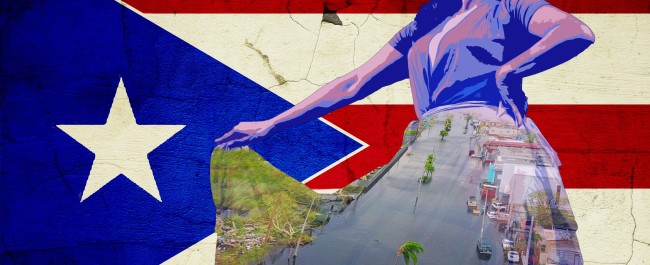 Ever since the hurricanes hit Puerto Rico I have been searching for ways that I can support my people on the island. It has been devastating, and my heart is broken as I hear more and more about the lack of resources and support reaching those in need. I am also angry that Trump seems on a path to worsen this reality. I am so grateful to everyone who has asked me about what they can do to help Puerto Rico. This post is about just that.
¡VIVA PUERTO RICO! is a benefit compilation album, bringing together renowned and rising artists from Puerto Rico, Mexico, Chile, Colombia, Argentina, Canada, and all over the U.S.. All proceeds from this Bandcamp album will go directly to MariaFund.org where one hundred percent of monies raised will be used to support immediate relief, recovery, and equitable rebuilding in Puerto Rico for the communities hit hardest by the storm. 
Check out our recent features in Billboard, Huffington Post, Spin, Remezcla, Pitchfork, The Fader, Treble, Mondo Sonoro, and Broadway World.
Artists:
Ana Tijoux is French-Chilean musician with a style and sound that crosses boarders. Daughter of a Chilean exile, Tijoux was born and raised in France, where her love for hip hop began and grew into the profound career she has today.
Cabas is a Colombian grammy nominated singer, songwriter and producer with a musical career that expands over a decade. His music is characterized by having a Caribbean-like sound, mixing genres from Cumbia to Rock in a completely original manner.
Chancha Via Circuito is the pseudonym producer Pedro Canale (a.k.a. Universildo) adopts to explore his Latin American influences. Since 2005 has been producing instrumental tracks merging the electronic with acoustic instruments and voices.
Chazmere is a Bronx, New York rapper, producer and educator through the Building Beats program in The Bronx.
Climbing PoeTree, is an award winning spoke word, theater, and hip hop duo that merges world music, electronic, blues, and rock. Alixa Garcia & Naima Penniman have infused movements for justice through artistic and educational platforms that have taken them from the United Nations to the main stages of some of the biggest music festivals in the country and abroad.
Downtown Boys is a punk rock group based in Providence, RI, combining revolutionary ideals with boundless energy and contagious, inclusive fun.
Hasan Salaam is an emcee, educator, and community organizer from New Jersey. Hasan's music paints vivid pictures of the commonalities that bind us: struggle, love, and pain.
Hurray for the Riff Raff, lead by Puerto Rican singer Alynda Segarra, is an American folk-blues and Americana band from New Orleans, LA.
Immortal Technique is a renowned Peruvian revolutionary hip-hop emcee and activist from Harlem, NY.
Johnny Juice, member of Public Enemy and X-Vandals, is an Emmy and NAACP Image Award nominated composer, producer, turntablist, engineer, musician, DJ, b-boy, radio personality and DJ, graf writer, educator, community activist, and mentor.
Katani is a hip hop duo based upstate NY, comprised of Kat SoPoetic and  Amani O+. Together with their music and activism, their turn the frequently immobilizing pain of misogynoir into the fuel necessary to examine, expose and dismantle these systems as counter-intuitive and harmful to us all.
Lah Tere is a Afro-Antillian/Puerto Rican/Boricua humanitarian, organizer, activist, emcee, and songstress from Chicago's historic Puerto Rican community of Humboldt Park.
Krudas Cubensi, made up of Odaymara Cuesta and Olivia Prendes, are Cuban Hip Hop MCs, independent musicians, poets, theater performers, and educators representing Black & Latin womyn, gender non conforming, immigrants, queers and people of color action as a central part of world change.
Lila Downs is a Grammy award winning Mexican-American singer-songwriter and actress, performing her own compositions and the works of others in multiple genres, as well as tapping into Mexican traditional and popular music.
Nomadic Massive is Montreal based multilingual crew, rapping and singing in English, French, Creole, Spanish and Arabic.  
Olmeca is a Los Angeles based bilingual Hip-Hop artist and producer.
Gina Madrid, formerly Raw-G, was born and raised in Guadalajara Mexico, currently bringing her own distinct cross-cultural, multi-lingual, politically charged Hip-Hop to the Bay Area music scene.
Resident Anti-Hero – is a music project made up by Etheric Double and Master Gunnery Sergeant Fenix that fuses literary lyrics with music to create an ongoing mythology that criticizes industrial civilization.
Reyes – A Detroit based chicano poet, artist and organizer, Reyes who performs internationally and facilitates educational performances and workshops by merging creative expression and critical thought.  
Taina Asili is an upstate, NY based Puerto Rican activist, singer, songwriter and bandleader combining powerful vocals with an energetic fusion of Afro-Latin, reggae and rock. Her music offers a sound that spans continents, exuding strength of Spirit, inspiring audiences to dance to the rhythm of rebellion.
Talib Kweli is a Brooklyn-based MC who earned his stripes as one of the most lyrically-gifted, socially aware and politically insightful rappers to emerge in the last 20 years.

X-Vandals, made up of New York based Puerto Ricans Not4Prophet aka Zero Prophet and DJ Johnny Juice, have rican-structed a truly incendiary and incite-full, dangerous and danceable, modern-day militant musica made, played and sprayed to move the Masses and mold minds.
BUY NOW and SHARE!