Taína Asili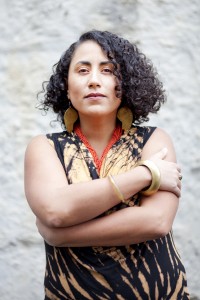 Puerto Rican vocalist Taína Asili carries on the tradition of her ancestors, fusing past and present struggles into one soulful and defiant voice. Her newest artistic work is with la Banda Rebelde (the Rebel Band), a six piece ensemble based in Albany, NY. This dynamic force brings love, resistance, and ancestral remembrance to venues, festivals, conferences and political events across the globe. Powerful vocals laid over an energetic fusion of Afro-Latin, reggae, and rock, the band's eclectic style offers a sound that spans continents, with heartfelt lyrics sung in multiple languages. Taína Asili's voice exudes strength of Spirit, filling its listeners with the fervor of freedom and inspiring audiences to dance to the movement of rebellion.
Taína Asili y la Banda Rebelde released their debut album War Cry in 2010. With an uncompromising lyrical integrity and dynamic sound, the multilingual album War Cry blends the energy of Ojos de Brujo, the soul of Lila Downs and the defiance of Rage Against the Machine. Journalist Josh Potter of The Metroland, Albany, NY's alternative newsweekly, describes War Cry as "a pan-global roots-musical mélange that appeals to the struggle of tradition to envision a world of social justice."
Taína Asili [tahy-ee-nah ah-see-lee] hails from Philadelphia, PA and Albany, NY where she has worked as a musician, poet, educator and community organizer for over 15 years.  She has shared the stage with renowned artists such as Ursula Rucker, Sonia Sanchez, Talib Kweli, Dead Prez, Immortal Technique, Pamela Means, Paula Cole, and Tyrone Hill of The Sun Ra Arkestra. Taína was a winner of the 2005 Transformation Award given by the Leeway Foundation each year to a select few of women artists who profoundly use their work towards social change. She has performed from Montreal to San Francisco and from Mexico to Spain capturing the hearts of her listeners.
"If you look at our history," she says, "you see over and over that music has played a central role in changing how people think, for the good and bad. How we make change in the larger political landscape starts with how we affect one another individually, and music brings message in a way that opens people—their heart, mind, spirit."
Taína's performance history and experience is as eclectic as her artistic work. Her father a Latin-jazz conductor, vocalist and congero, and her mother an Afro-Caribbean dancer, Taína was strongly influenced by the music which surrounded her childhood. She was raised in upstate NY, and trained as a European classical vocalist. Taína later found punk rock, and for eight years wrote and sang songs of rage and resistance with Antiproduct, touring the country several times and putting out four albums internationally. Throughout her career, Taína has performed and recorded soulful  back-up vocals for numerous bands including jam band Yolk, Puerto Rican punk band Ricanstruction, and hip hop/rock band Broadcast Live.
In her move to Philadelphia, Taína fell in love with spoken word and began writing and performing as a solo poet around the country. Her poetic work has been featured in a number of CD collections. She can also be witnessed in Scene and Not Heard, a documentary about women and hip hop culture in Philadelphia, also featuring Bahamadia and Monie Love.
She began facilitating poetry workshops at Taller Puertorriqueño, a Puerto Rican cultural center based in North Philadelphia where she taught local Puerto Rican youth about the current struggle and resistance movement in Vieques, Puerto Rico, using poetry and drawing as their expressive voice. Taína has since taught poetry writing workshops for both children and adults, with a focus on marginalized populations including incarcerated women, refugees and union workers. She has her MA in Transformative Language Arts from Goddard College.
The folkloric arts of Latin American and Spain have captured her heart in new ways. Currently, Taína Asili and guitarist Gaetano Vaccaro have come together as a duet (AsiliVaccaro.com) to perform folkloric music from Latin America and flamenco from Spain. Together they have studied at Flamenco Latino in NYC, and Taller Flamenco and El Centro de Arte y Flamenco de Sevilla in Seville, Spain.
Taína is dedicated to using her art as a tool for personal and social transformation. Her art is not only political, but based in the concrete organizing she is in involved in, working in political prisoner liberation, prisoner rights, indigenous rights, environmental justice, and holistic health movements for over a decade. However, Taína's main revolutionary and artistic work involves raising her children… her best artistic inspiration.