Bio
"Her vocals penetrate your heart, the lyrics stir your conscience, the melodies are soothing and the rhythms are contagious."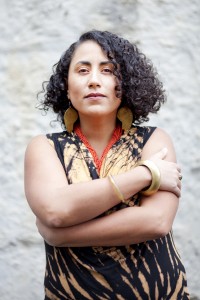 Taína Asili is a New York based Puerto Rican singer, songwriter, bandleader and activist carrying on the tradition of her ancestors, fusing past and present struggles into one soulful and defiant voice. Her newest artistic work is an energetic fusion of powerful vocals laid over Afro-Latin, reggae, and rock sounds. Residing in Albany, NY, Taína Asili performs her social justice songs as a solo artist, and also with her dynamic eight-piece band, Taína Asili y la Banda Rebelde, bringing love, resistance, and ancestral remembrance to venues, festivals, conferences and political events across the globe. Taína Asili's voice exudes strength of Spirit, filling listeners with the fervor for freedom and inspiring audiences to dance to the rhythm of rebellion.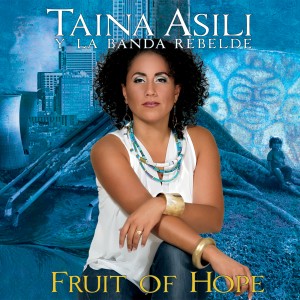 Asili's first album War Cry was released with la Banda Rebelde in 2010, and her latest album Fruit of Hope was  released in 2014. Music producer and journalist David Malachowski writes "…the high energy of the band is simply impossible to ignore. The exotic, incessant rhythms reel you in, and the stabbing horns, hypnotic bass and Asili's urgent voice draw you closer." KC Orcott of The Source writes, "Taina is a true talent, and a true social justice warrior."
Taina Asili's music is a powerful force for social change. In January 2017, Taina performed for over half a million people at The Women's March on Washington, alongside activists such as Angela Davis, Janet Mock and Gloria Steinem, and artists such as Alicia Keys, Janelle Monae, Toshi Reagon, and Madonna. Her music has been aired several times on Democracy Now!. The Huffington Post named her as #2 in a list of in a list of "12 Freedom Fighting Bands To Get You Through the Trump Years", and Billboard Magazine featured her in a list of "11 Songs of Protest & Resistance by Latino Artists." Taina participated in the Rock Against The TPP tour, where she joined famed guitarist Tom Morello, Emmy nominated actress Evangeline Lilly, and other high profile artists in a nation wide tour to stop the Trans-Pacific Partnership.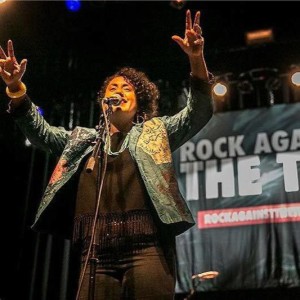 Asili's work expands beyond the realm of music into other forms of media. Her most recent music video "No Es Mi Presidente," which she wrote and directed, was premiered in Rolling Stone and received national acclaim. Her music video "Freedom", also received national media attention, including features in Mic.com, Latina Magazine, The Source, Okayplayer and Feministing, and was described as "a new Black Lives Matter anthem". It was also featured in The Workers Unite Film Festival. Her music video commentary on climate justice, "And We Walk", was featured as part of an interview with Taina in Yes! Magazine. Recently, she has dove into the world of podcasting with her new show The Rhythm of Rebellion, featuring interviews with social justice artists from around the world.
During Taína Asili's 20-year career of creating music for social change she has toured the country numerous times, toured Europe from Ireland to Germany, and has performed in Canada, Mexico, and Puerto Rico. Taína Asili has performed at many well-known festivals and venues, sharing the stage with renowned artists and activists such as Talib Kweli, Alicia Keys, Janelle Monáe, Angela Davis, Cornel West, Ursula Rucker, Sonia Sanchez, Tom Morello, Paula Cole, Jello Biafra, and The Sierra Leone Refugee All-Stars.
Taína is dedicated to using her art as a tool for personal and social transformation. The liberation themes in Taína's writing are based in her activism in political prisoner liberation, prisoner justice, climate justice, and food justice movements. Taína has an MA in Transformative Language Arts from Goddard College, and in addition to her performance and activist work, she facilitates arts workshops for both youth and adults. In 2005, Taina was given the Transformation Award by the Leeway Foundation for her art and social change work. In 2010, the Fabulous Feminist: Creative Force Award was given to Taína by the Holding Our Own Foundation. In 2015, The Hispanic Coalition NY recognized her as one of their 40 under 40 Rising Stars. In 2016 she received the Jimmy Perry Progressive Leadership Award from Citizen Action NY, and in 2017 she was honored by the City of Albany's Commission on Human Rights.
"If you look at our history," she says, "you see over and over that music has played a central role in changing how people think, both for the good and bad. How we make change in the larger political landscape starts with how we affect one another individually, and music brings a message in a way that opens people—their heart, mind, spirit."
HerStory

Taína Asili's eclectic music history begins in the Puerto Rican home of her childhood in upstate, NY. Her father was a Latin-jazz conductor, vocalist and conga player, and her mother was an Afro-Caribbean dancer. Taína was strongly influenced by the music which surrounded her childhood. Growing up, Taina and her sister Ayana (who is also a professional musician) would sing doo-wop with their father for family gatherings and weddings.  In Binghamton, NY, her hometown, she began studying European classical voice at the age of 14 under the tutelage of Alma Mora, a Peruvian opera singer, who became Taína's vocal mentor for the next six years.
In her teenage years, Taína's heart also found punk rock, and for eight years she wrote and sang songs of rage and resistance with the band Antiproduct. The band gained underground popularity in the punk scene, known for their potent social justice, feminist lyrics and powerhouse performance. They toured the country several times, putting out four albums which were distributed internationally.
Throughout her career, Taína performed and recorded soulful back-up and collaboration vocals for numerous bands, including the popular upstate New York jam band Yolk, Puerto Rican punk band Ricanstruction, and hip hop/rock band Broadcast Live.
After graduating from Binghamton University with a BA in Women's Studies, Taína moved to Philadelphia and fell in love with the vibrant spoken word scene. She began performing professionally as a spoken word artist, sharing the stage with renowned Philadelphia based artists such as Sonia Sanchez and Ursula Rucker. Her poetic work has been featured in a number of CD collections, as well as the documentary Scene and Not Heard, about women and hip hop culture in Philadelphia, also featuring hip legends Bahamadia and Monie Love.
Taína began facilitating poetry workshops at Taller Puertorriqueño, a Puerto Rican cultural center based in North Philadelphia where she taught local Puerto Rican youth about the anti-colonial resistance movement in Puerto Rico, using poetry and drawing as their expressive voice. After graduating from Goddard College's Transformative Language Arts MA program, Taína developed several poetry and songwriting curriculums, and has since taught poetry and song writing workshops for both children and adults, with a focus on marginalized populations including incarcerated women, refugees and union workers.
In 2005, Taína Asili began to blend poetry and song. That same year, she received the Transformation Award by the Leeway Foundation, given to a select group of artist each year who do profound art and social change work. In 2006, Taína met and fell in love with guitarist Gaetano Vaccaro, and there began their journey of intertwining music and family. Together, they began to write the work that would become the Afro-Latin, reggae, rock, fusion group Taína Asili y la Banda Rebelde, reflecting her cultural roots, classical training, punk rock rebellion, poetic passion, and love of music and resistance movements from around the world.
In 2009, the Spanish folkloric art of flamenco captured their hearts and they began the lifetime study of this profound art form. They have studied at Flamenco Latino in New York City, and Taller Flamenco and El Centro de Arte y Flamenco in Seville, Spain in 2010 and 2011. They now also perform flamenco and Latin American folk as the duet Asili & Vaccaro, and the techniques they have learned have also informed their original work with la Banda Rebelde.
Taina's artistic work is always infused by her activism. She is a co-founder for the New York State Prisoner Justice Network, as well as the Arts In Action Committee of Capital Area Against Mass Incarceration. She is also a board member of the renowned farm and food justice institute Soul Fire Farm.
Above all else, however, Taína Asili's main revolutionary and artistic work involves raising her two children, who are her best artistic inspiration.